Introduction to Python
Posted by

Date

August 24, 2021

Comments

0 comment
Introduction
The complete new series of blogs is related to Python Language which is the fastest-growing language. We will start from scratch with the basic syntax and make you completely understand every topic's basic to advance For Those who have zero skills in programming that's fine this series blog belongs to you and wants to shift their carrier to Python Developer or Artificial Intelligence domain.
Table of Contents
What is Python ?
Why Python is famous ?
Version of Python
What is Python ?
Python Programming Language was invented by Guido Van Rossum in 1989.
Python is a Programming Language as well as Interpreted object-oriented and high-level Language. It supports both procedural programming as well as object-oriented. Python Language is one of the fastest-growing languages in every term like the number of Developers using it, the number of Libraries we have, the number of companies using it, and the Area which is implemented like Machine Learning/Artificial Learning, GUI, Software Development and Web Development. We can use python everywhere and for this reason, it is also called a General Purpose Language.
Python Applications used in a variety of Areas:
Why Python is famous ?
Python was developed in 1989 whereas JAVA was developed in 1995. At the time when JAVA comes into the pictured the enterprises market was boomed everyone started learning and implementing JAVA, but python was there it was used as a side language like if you want to learn a programming language for the first time at that time they start learning the first python but now question arise
How python becomes too much famous?
The advancement of Machine Learning/Artificial Intelligence this is a field where we have research scientist they don't wont to spend much time on learning programming language, so they went for easiest language available and the easiest language available in the market is python it is much simpler than C, C++, JAVA, etc. so most of the collages/ school they are teaching python language.
Top Companies that are using Python Language as Maine language or support language:
Google
YouTube
YAHOO!
Dropbox
NASA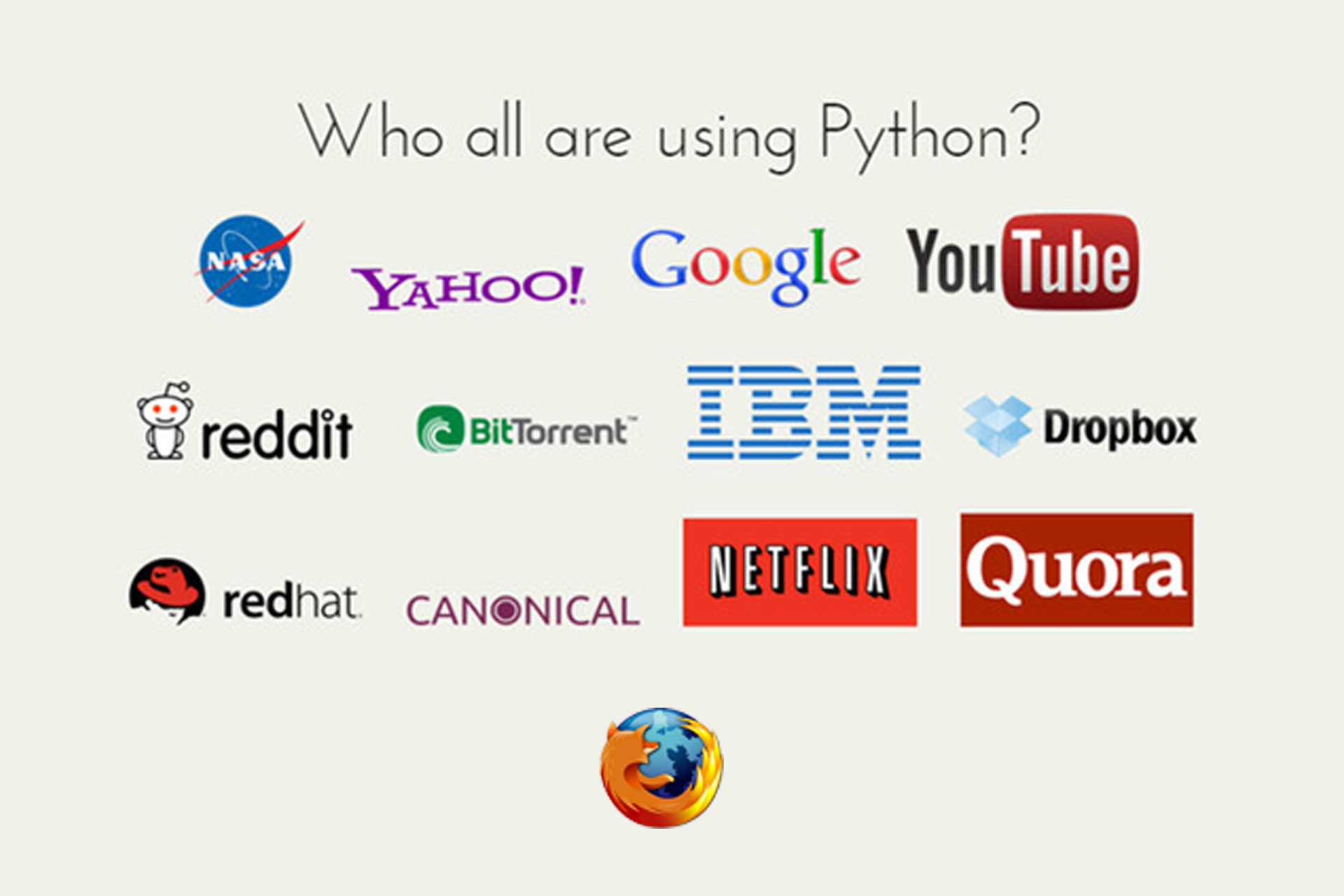 Versions of Python
Python 1.0 – January 1994
Python 2.0 – October 2000
Python 3.0 – December 2008
End Notes
I hope this blog introduction to python gives you some brief knowledge of what is python. In the next blog, we will go through the installation of Python.